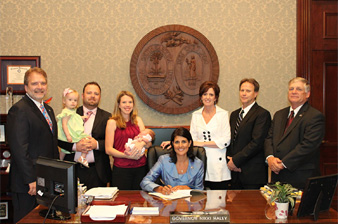 pictured from left: Senator Brad Hutto, Chris Knight (Chandler's Brother-in-Law), Braelyn Chandler Knight (Chandler's Niece), Stephanie Knight (Chandler's Sister) holding Emersyn Denah (Chandler's Niece), Governor Nikki Haley, Pam Saylor, Steve Saylor, State Representative Harry Ott
Welcome,
Welcome to the Chandler Saylor Memorial website. Chandler Saylor, a sophomore at Swansea High School, was fatally injured in an ATV accident on May 10, 2003. In dedication to his memory and love for sports, a scholarship fund was developed for Swansea High School student athletes of outstanding character in continuing toward their educational goals.
While this site serves as a tool for those applying for the scholarship, we hope that it will inspire others that have experienced similar tragedies to focus on a positive memorial for their loved one.
The Saylor Family